Leavingstone Creative Director on the Best Marketing Practices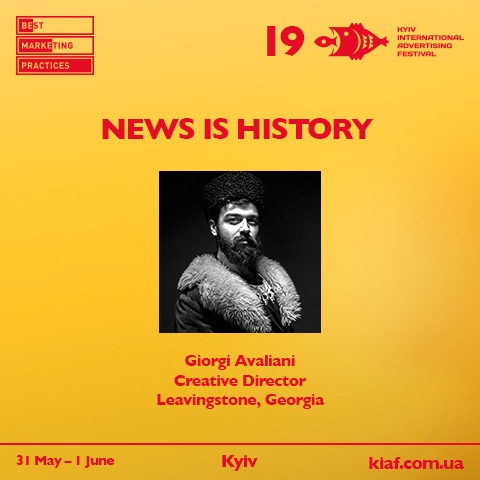 Giorgi Avaliani, in whose arsenal more than 90 international awards, will perform at the Best Marketing Practices conference with the topic "News is History".
«Troubled with how people trust ads less and less, I was thinking to examine the relationship between news, advertising, and history, one becoming the other and vice versa. Illustrated with a few real-life examples from... well... history, I want to propose that if you master to convince a juice brand to have a singing baboon in an ad, with diligence and practice you could be qualified to write the history for the entire nation» – Giorgi commented.
Giorgi`s creative management brought to the agency Leavingstone, in which he takes the position of Creative Director, awards of the highest ranks. Among them: Cannes Lions, Eurobest, Awwwards.com, Young Creatives Competition, ADCE, CSS Design Awards, Golden Drum, KIAF, Epica, One Page Love, Ad Black Sea, Golden Hammer, Digital Impact Awards, Marketing Brilliance Awards, Digital Impact Awards, London International Award and many others.
Joining the agency at ground zero as a copywriter, his versatile talents have fuelled the phenomenal transformation of a small Tbilisi-based agency into one of the largest local creative companies with more than 100 international awards to show for its global creative appetite.
Giorgi also teaches a course at Georgian Institute of Public Affairs on how to craft Creative Digital Experiences.
You have a chance not only to listen to the performance of the most recognized creators of our time but also to learn their experience, face their lifehacks and ask questions in an informal atmosphere.
Come for inspiration to the 19th KIAF!
See you at the VDNG on May 31 – June 1!