Executive Creative Director McCann Madrid among the Best Marketing Practices speakers!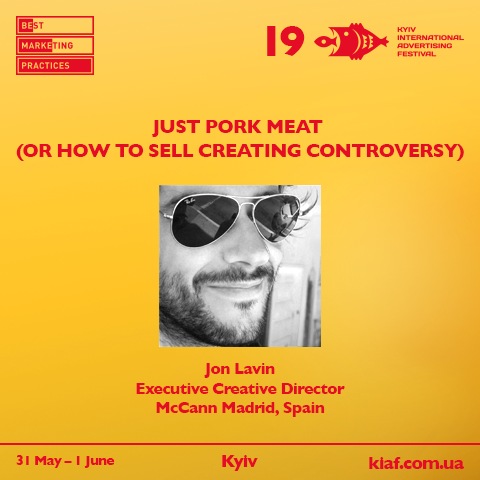 At the 1st day of the Best Marketing Practices conference Jon Lavin, a winner of 20 Cannes Lions, will give a master class for the 19th KIAF participants.
He has worked as a copywriter at Ogilvy Madrid, as Creative Director at Contrapunto BBDO and DDB, as Executive Creative Director, Founder & Partner at Villar-Rosàs Madrid, as Global Creative Director at The Cyranos and is now ECD at McCann. He also founded The Appiness Collective.

Jon has won more than 200 Top Level Awards (more than 20 Cannes Lions Awards among them) for clients such as Nike, Coca-Cola, Canal+, Smart, Burger King, Amnesty International, Campofrío, and Ikea.
He was chosen as one of the "Most valued young creatives from Spain" by The Journal of Advertising, selected as one of "The leaders of the future" by Capital magazine and rated in 2016 as one of "The ideal creative directors in Spain", according to a survey of marketing directors, published by The Advertiser.
He has been a member of the jury on El Sol Iberoamerican Festival, El Ojo de Iberoamérica, JCDecaux, Cinespot, Caribbean Festival, Young Lions (Spanish edition), CdeC (Spanish Creative Club), New York Festival, FIAP and Clio 2018.
To take part in all activities, you should register on the website.
In case of any questions, please contact organizing committee via mail: project@vrk.org.ua – Olga Podgorskaya or via the phone number: +38 (044) 490 90 30.
See you on the KIAF 2018!